Dinner Knife, Ivory without Mother of Pearl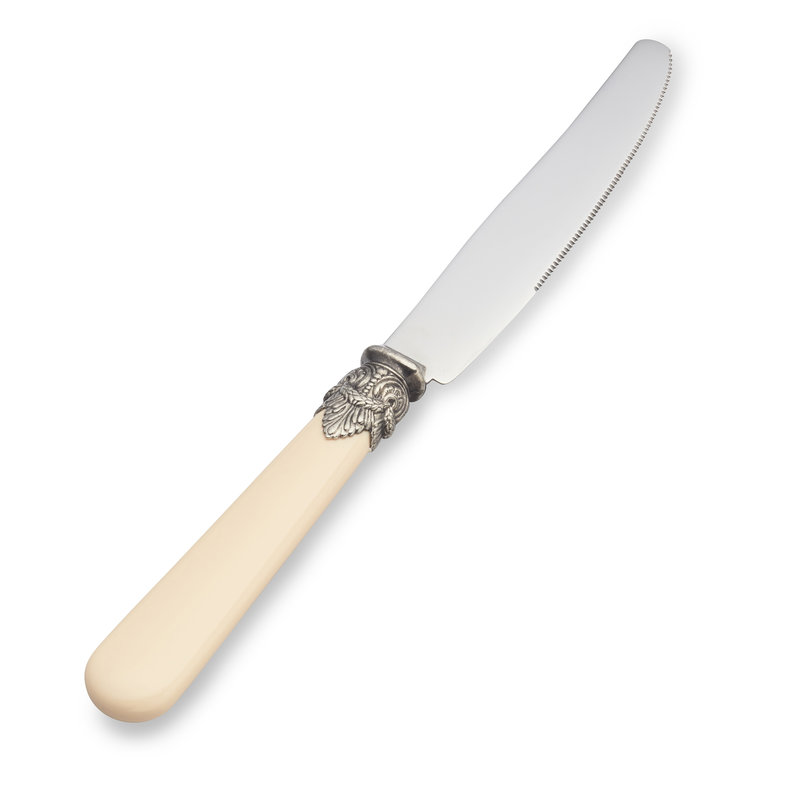 Dinner Knife, Ivory without Mother of Pearl
Delivery time:

Expected delivery: October 2023
Content:
1x dinner Knife.
Product range:
The dinner knife is available in various beautiful colours.
EME Napoleon has an extensive range of cutlery for dinner in the webshop.
Dimensions (length):
Standard knife: 22,5 cm [8,9 inch], (handle 11 cm [4,3 inch]).
Material:
The cutlery is made of stainless steel and has a plastic handle. The steel is made of stainless steel (also called chrome steel or chrome nickel). The steel consists of 18 parts chrome steel and 10 parts nickel. This is also referred to as 18/10. The nickel ensures that the cutlery shines beautifully.
The handle is made of metal acrylic. It is a hard plastic (similar to plexiglass). It is heat resistant and very strong material. Ideal for cutlery. The cutlery can be washed in the dishwasher by using these high-quality materials. 
Dishwasher suitable:
The cutlery is of high quality and can be washed in the dishwasher.
Please read the maintenance tips for cutlery from EME.
Reviews
"Past precies bij het bestek dat ik 15(!) jaar geleden heb gekocht, met een miniem verschil; compliment"

Monica Van Der Hoff on 29 Apr 2023

"Prima product , wel iets andere kleur dan het vroegere bestek maar zeker goed bijpassend"

S.W. van Dijk on 23 Apr 2023

"Prima mes!!"

Jolanda Kaat Flach on 09 Sep 2022

"wunderschön"

Anja Dirala Home Collection GbR on 09 May 2022

"Tolles Material"

Sabine on 03 Apr 2022