Butter Knife / Tapas Knife, Light Blue with Mother of Pearl (7,1 inch)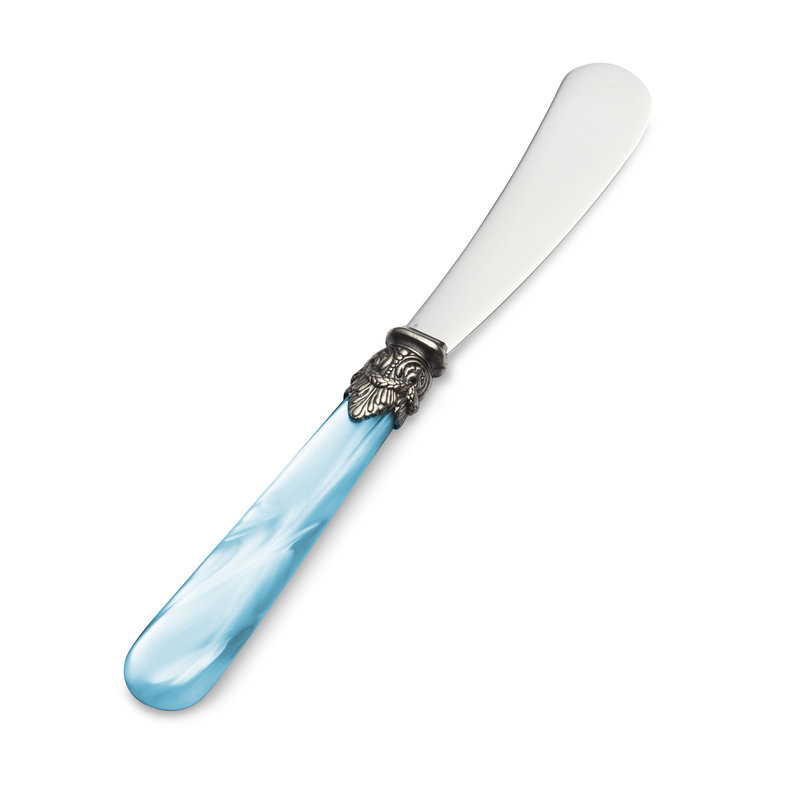 Butter Knife / Tapas Knife, Light Blue with Mother of Pearl (7,1 inch)
Delivery time:

England: Delivery time between 5-7 working days. Other countries: See Service / Delivery.
Content:
1x Butter Knife / Tapas Knife
Product range:
The small cake knives are available in various beautiful colours and two different versions / dimensions (5,3 inch and 7,1 inch).
Dimensions:
Large, length: 18 cm [7,1 inch], (handle 10 cm [3,9 inch]).
Material:
Stainless steel and metal acrylic.
Dishwasher suitable:
The cutlery is of high quality and can be washed in the dishwasher. To maintain quality, we recommend that you follow the instructions for the maintenance of the cutlery.
Maintenance:
It is preferable to wash the cutlery by hand.
Wash the cutlery in the dishwasher at a temperature no higher than 60 degrees.
Place the cutlery with the handle up in the dishwasher.
Prevent food scraps on the cutlery for more than 6 hours.
Avoid contact with heavy and corrosive (cleaning) agents that contain the following substances: acetic acid, citric acid, lactic acid, and especially sodium chloride.
Avoid cleaning agents with acids such as lemon, especially if the water has a high chlorine content.
If possible, remove the cutlery from the dishwasher as soon as it is ready and dry with a tea towel.
Superficial stains can be removed with a cloth with green soap.
Reviews
"alles ok maar voor mij verkeerde kleur"

JOYCE on 16 Jan 2023

"Een aanwinst op mijn serveer bestek"

Boy van Miltenburg on 31 Dec 2022

"Lemmet beetje losjes"

Irmo Keizer on 21 Jul 2022