Cake Knife / Breadknife, Blue with Mother of Pearl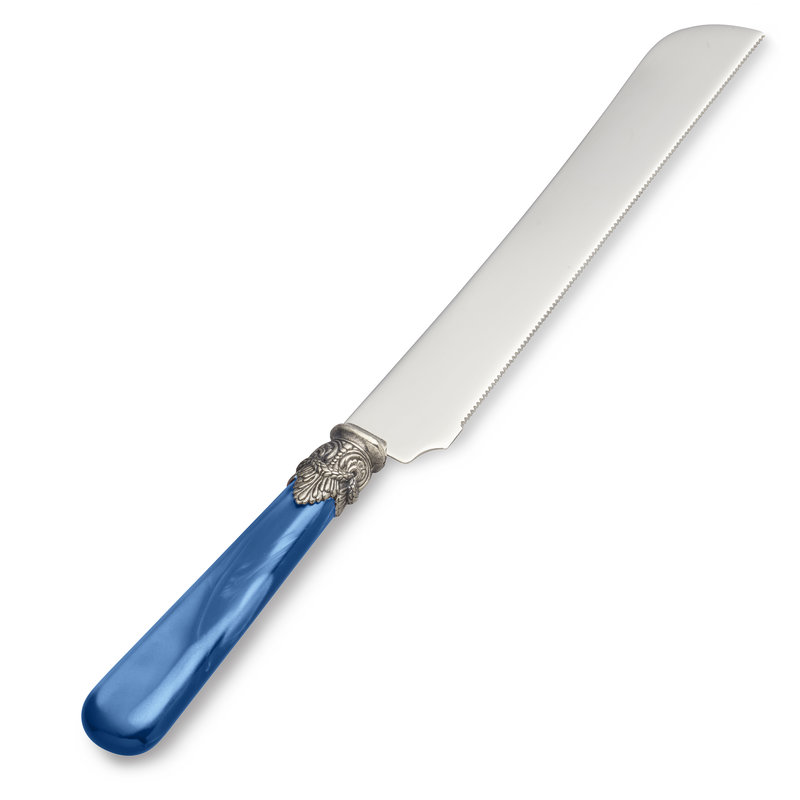 Cake Knife / Breadknife, Blue with Mother of Pearl
Delivery time:

England: Delivery time between 5-7 working days. Other countries: See Service / Delivery.
Content:
1x Cake Knife / Bread Knife
Product range:
The cake knife / bread knife are available in various beautiful colours. The knife is sharp and cuts well through cakes, pastries and fresh bread.
Dimensions:
Length: 29 cm [11,4 inch], (handle 11 cm [4,3 inch]).
Material:
The cutlery is made of stainless steel and has a plastic handle. The steel is made of stainless steel (also called chrome steel or chrome nickel). The steel consists of 18 parts chrome steel and 10 parts nickel. This is also referred to as 18/10. The nickel ensures that the cutlery shines beautifully.
The handle is made of metal acrylic. It is a hard plastic (similar to plexiglass). It is heat resistant and very strong material. Ideal for cutlery. The cutlery can be washed in the dishwasher by using these high-quality materials. 
Dishwasher suitable:
The cutlery is of high quality and can be washed in the dishwasher.
Please read the maintenance tips for cutlery from EME.
Reviews
"très joili mais peu efficace pour e pain, c'est très dommage...."

CORINNE DE ROCHEFORT on 17 Aug 2023

"Een must als je een taartschep e.d. ook hebt. Goed mes met prima kartels."

Adele Bouman on 02 Mar 2023