Want to buy a cutlery set? View the wide range of EME Napoleon
Published on 31 january, 2022
•
By Napoleonbestek.nl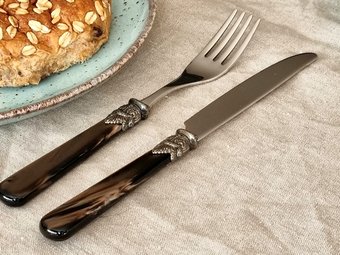 Cutlery Sets
EME-Napoleon has an extensive choice of cutlery sets. Cutlery sets are available in different versions. Whether it's a dinner cutlery set for one person or a complete cutlery set for six people? Everything is possible. Or how about the cutlery sets for breakfast? Or cutlery sets for fish?
Colored Cutlery
In addition to the different versions, you also have a choice of no less than 17 colors for your cutlery set. Are you looking for cutlery that goes with everything and has a calm but chic look? Then choose a black cutlery set or a mother-of-pearl cutlery set with a handle in the color ivory with a beautiful mother-of-pearl look. Do you like atmosphere and cosiness at the table and do you want to combine cutlery with your crockery or decor? Then take a look at the red cutlery sets, green cutlery sets or blue cutlery sets. Do you like striking colours? Then orange cutlery or light green cutlery is something for you. Or how about a pink cutlery set or light blue cutlery set for a more vintage look?
Want to buy a cutlery set?
In addition to the beautiful design and beautiful colors, you can also rely on excellent quality. The cutlery can therefore simply be washed in the dishwasher. Do stick to the maintenance advice we give! Then you will enjoy this beautiful Italian cutlery set for many years to come.