Steak knives. Indispensable for cutting meat
Published on 22 february, 2023
•
By Napoleonbestek.nl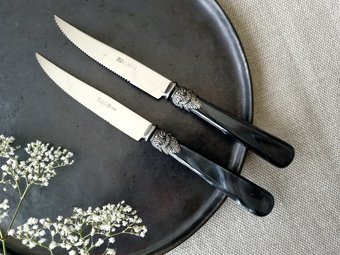 Steak knives are special blades that are designed to make cutting steak and other types of meat easier. Although they are often associated with chic restaurants and formal dinners, steak knives are also popular in many households and are used for everything from casual barbecues to festive meetings.
The most important difference between a steak knife and an ordinary knife is the shape of the blade. Steak knives often have a pointed and serrated blade, which means that the edge of the knife is not completely smooth, but has a series of small teeth instead. This is designed to cut the meat more easily and to prevent the knife from sliding through the meat without cutting it.
The EME Napoleon handle offers a good grip as standard. For the steak mass this helps to cut thicker meat. The handle is made of sturdy plastic and the blade of stainless steel. This guarantees excellent quality, which means that the blades can simply be done in the dishwasher.
When you choose a steak knife, it is important to pay attention to the quality of the blade and the handle. A good steak knife must be razor -sharp, so that you can easily cut the meat without exerting too much pressure. In addition, the handle must be comfortable and firm in the hand so that you can hold the knife well during cutting. The handle and blade of EME Napoleon are very comfortable and sturdy with all blades as standard.
At EME Napoleon you can order them per piece. Whether you are looking for 1 knife, a set of four or eight knives for daily use, or a special set for a special occasion, there is always a steak knife that suits you. View the range of steak knives here.