Soup ladle. Surprisingly beautiful with any cutlery!
Published on 20 february, 2022
•
By Napoleonbestek.nl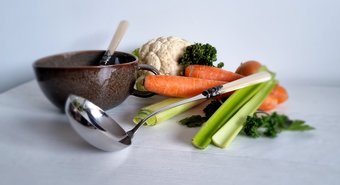 Soup Ladle
The soup ladles from EME Napoleon match any cutlery and provide a surprising contrast at the table. The beautiful design and beautifully colored handle make the soup spoon special. The cutlery is of high quality and can be put in the dishwasher. Whether you like chic, modern or classic: the cutlery suits every occasion!
Are you a real soup lover? Then the soup ladle from EME Napoleon should not be missing. These soup ladles have a beautiful design. The cutlery from EME Napoleon can always be combined with your existing cutlery. This will add an extra accent to the table.
Colored soup ladles
The soup ladles are available in various surprising colours. Choose a neutral color that goes with everything or choose your favorite color. Or find the color that matches your kitchen, your crockery or your interior. And choosing from so many different colors is not easy.
Buy a soup ladle?
View the soup ladles in our range and make your choice. The soup ladle can simply be put in the dishwasher because the cutlery is made of high-quality materials. EME is known for its quality. That is why you can enjoy it for years, even after intensive use.