Pizza cutter with colored handle. Sharp and beautiful design.
Published on 22 august, 2022
•
By Napoleonbestek.nl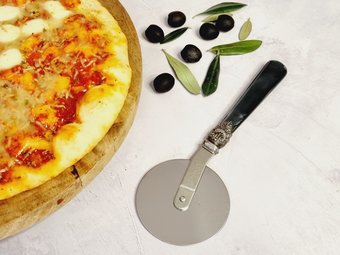 Pizza cutters are hip! After many requests from customers, at our request, the EME factory has included these pizza cutters in the Napoleon cutlery range. Of course you can also eat your pizza with a knife and fork, but admits: isn't it a lot nice to cut a nice piece from the pizza yourself and eat it by hand?
You cut the pizza into pieces in advance or cover the table with these beautiful pizza cutters, so that everyone can cut their own pizza into pieces.
These pizza knives are particularly sturdy and sharp. You can easily cut through a crispy bottom. Do you already have cutlery from EME Napoleon? Then this cutlery should not be missing! Then you also know that you can expect quality. But even if you don't have any cutlery from this range yet: no problem. This cutlery can be perfectly combined with your existing cutlery set.
Do you know someone who loves pizzas? How nice it is to give such a beautiful pizza cutter as a gift! The pizza cutters are available in various surprising colors and have a beautiful design.
View the range of pizza cutters here and choose your favorite pizza cutter / pizza knife!