Pizza Cutter: A Stylish and Efficient Kitchen Gadget. Now attractive discount!
Published on 29 june, 2023
•
By EME Napoleon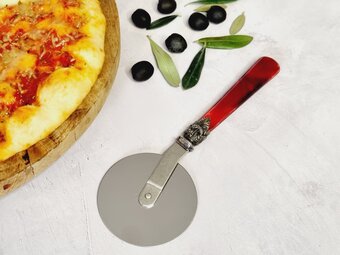 As pizza enthusiasts, we all know the importance of having a good pizza cutter in our kitchen. The brand EME Napoleon has built a reputation for its high-quality kitchen accessories, and their pizza cutter is no exception. With a temporary price reduction from €17.95 to just €9.95, this is the perfect time to treat yourself to a pizza cutter that not only offers functionality but also adds a stylish touch to your kitchen utensils. With a choice of 17 different pearlescent colors and dishwasher-safe features, the EME Napoleon pizza cutter is a must-have for any pizza lover.
Stylish and Functional
The EME Napoleon pizza cutter not only offers excellent functionality but is also designed with style in mind. Its elegant pearlescent finish adds a touch of class to your kitchen. Whether you have a modern kitchen or a more traditional décor, the EME Napoleon pizza cutter complements any style and brings a sense of refinement to your cooking experience.
17 Beautiful Pearlescent Colors
What truly sets the EME Napoleon pizza cutter apart is the choice of 17 different pearlescent colors. Whether you prefer a vibrant color to brighten up your kitchen or a subtle hue that matches your other kitchen utensils, there is always a color to suit your personal style. From deep blue to soft pink and from classic white to vibrant green, you can customize the EME Napoleon pizza cutter to your taste and preferences.
Dishwasher-Safe
We understand that cleaning up after a delicious pizza meal is not the most enjoyable task. However, with the EME Napoleon cutlery, you don't have to worry about that. This pizza cutter is dishwasher-safe, meaning you can simply place it in the dishwasher after use and spend your time enjoying your pizza instead of doing dishes. The durable materials ensure that the pizza cutter maintains its shine time after time, even with repeated use and cleaning.