New color: Brown with Mother of Pearl!
Published on 19 august, 2021
•
By Napoleonbestek.nl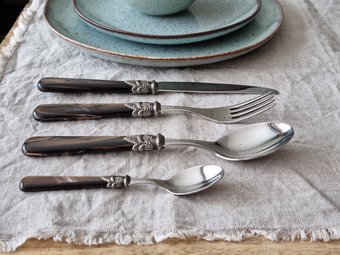 Cutlery from EME Napoleon is characterized by its high quality, beautiful design, but not to forget: the beautiful (mother-of-pearl) colored handle! Each type of cutlery is unique, because the effect of the mother-of-pearl can change per piece. Napoleon cutlery already had 16 colors in its range. A color has now been added: cutlery with brown colored handle.

Brown Cutlery
Brown cutlery? Of course. Brown is trendy. Napoleonbestek.nl already had the color turtle in its range. This is a brown color with lighter elements. It has a bit of a turtle motif. That's why the factory (EME) named this color Turtle,
But recently there is also the even brown color. A deep dark brown color with mother-of-pearl. A beautiful combination! A color that is chic, can be combined well with everything and, especially in combination with the design of Napoleon cutlery, comes into its own.

Combine cutlery with your existing cutlery
Do you already have a complete cutlery set and are you satisfied with it? Then it is nice to add some color elements here. Napoleon cutlery can be perfectly combined with your existing cutlery set. How nice is it to put your serving spoons with a different color and design on the table? Or do your coffee spoons or dessert spoons in a different color to add some contrast at the table?

Want to buy cutlery? EME Napoleon!
Are you considering buying cutlery? Then think of Napoleon cutlery! This is sure to get a positive response. EME Napoleon is characterized by its excellent service and quality. Customers also like to give this back in reviews. With us you don't just buy something on the internet. You buy quality cutlery from us and a lot of attention is paid to this. That is why we are there for you 24/7 and we go to great lengths to let you enjoy your beautiful purchase. Feel free to read what the experience is of other customers: Overview reviews for EME Napoleon (webwinkelkeur.nl)

The range
With this new brown color, the range that Napoleon cutlery offers has been expanded to a total of 17 colors of cutlery. There are no fewer than 35 different types of cutlery for sale: from breakfast to dinner, cutlery for cakes and pastries, tapas cutlery and sushi sticks, different types of serving cutlery, but also various coffee spoons and tea spoons, etc. In short: there is something for every occasion. appropriate cutlery!