Looking for a Valentine's gift? This is really original and surprising!
Published on 4 february, 2022
•
By Napoleonbestek.nl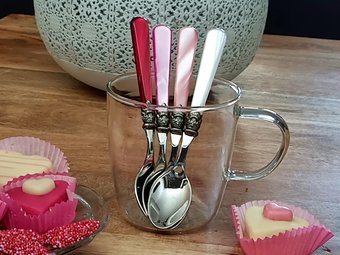 Valentine's gift
With Valentine's Day you naturally want to impress, surprise and spoil someone. February 14 is already the day. Do you really want to do something different and impress? Then we have some great tips for you!
Valentine Dinner
Whether you have a luxury meal delivered to your home or a tasty meal prepared yourself in the kitchen: cozy dining on Valentine's Day is always a success. Of course you do your best to make it a pleasant evening. You set the table with great care. And of course candles, red or pink napkins and hearts cannot be missed. Have you ever thought about matching cutlery? Whether you go for red cutlery, pink cutlery, or cutlery in other colours: this really completes the picture! The beautiful appearance and mother-of-pearl colors of the cutlery make the dinner extra special.
Cutlery gift
Giving cutlery as a gift sounds a bit strange, but is often done. Nice butter knives, festive cake forks, or cozy teaspoons in beautiful colors. Doesn't that make everyone happy? EME Napoleon cutlery on the table is always a success. Other nice cutlery to give as a gift are, for example, chopsticks for the sushi lover, a spaghetti spoon for the lover of Italian cuisine or a soup spoon for the soup fanatic. The colored cutlery from EME Napoleon can always be combined with any type of cutlery.
Buy cutlery?
Do you want to buy cutlery for Valentine's Day? View our range of cutlery quickly