EME Napoleon Cutlery: the Perfect Christmas Gift
Published on 4 november, 2023
•
By EME Napoleon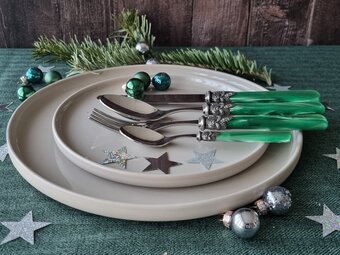 Timeless Elegance
Cutlery from EME Napoleon boasts a particularly beautiful appearance and is suitable for both modern and classic table settings. This means that the cutlery is not only functional but also adds a touch of timeless elegance to any table. Whether you're preparing a feast for Christmas or simply hosting a cozy dinner with friends, this cutlery will elevate the atmosphere and imbue a sense of classic beauty.
Durability and Quality C
utlery from EME Napoleon is made of high-quality stainless steel, which means it is not only elegant but also durable and long-lasting. The cutlery is dishwasher safe and suitable for daily use. It will not only enhance the holidays but also serve you for years to come.
Versatility
This cutlery is not limited to special occasions. It is versatile enough for everyday use. Whether it's breakfast, brunch, lunch, or dinner, cutlery from EME Napoleon adds a touch of class to every meal. It makes a great gift for everyone, from food enthusiasts to those who appreciate daily elegance.
Unique and Unforgettable
A gift from EME Napoleon is not just any gift. EME Napoleon offers an extensive range of cutlery that complements any existing set. How about a pizza cutter or chopsticks, tapas cutlery, coffee spoons, tea spoons or colorful cake forks? It's a unique gift that you wouldn't expect to receive. The unique design and beautiful colors make this cutlery an unforgettable gift, one that is sure to be well-received and leave a lasting impression.
Gift for Everyone Whether you're searching for a gift for family members, friends, colleagues, or even business associates, cutlery from Napoleonbestek.nl suits everyone. It's a gift that is both personal and versatile, showing that you care about the recipient and pay attention to detail.