Cutlery with colored handle: Surprisingly beautiful all year round.
Published on 6 may, 2023
•
By Napoleonbestek.nl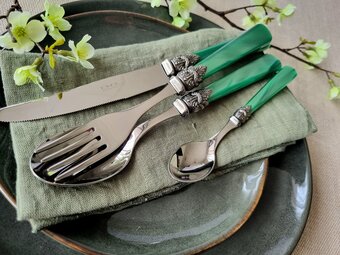 Cutlery
Cutlery is available in different types, materials, colors and execution. There is always something for everyone. One likes colour, the other likes only metal, one likes classic, the other likes chic. Cutlery is personal. EME Napoleon has managed to bring these wishes together with her combination of appearance, design, color and material.
colored cutlery
Cutlery in color: not everyone likes this. But colored cutlery is available in different versions. The colours, materials and design of Napoleonbestek.nl make the cutlery suitable for a large audience.
First of all, the cutlery fits perfectly with your existing cutlery. You don't have to replace all your cutlery. How nice is it to expand your existing cutlery set with colored serving cutlery? The colored cutlery creates a surprising look at the table.
The material of this cutlery is of very high quality. The cutlery can therefore be put in the dishwasher. With many cutlery types that consist of two parts (the handle and the metal), the dishwasher is not an option. With cutlery from EME Napoleon you don't have to worry about this.
The design of the cutlery and the mother-of-pearl effect in the colored handle make the cutlery look both chic and antique. It suits a sleek chic table, but also a more classic, vintage/baroque table.

Cutlery for all occasions
Cutlery from EME Napoleon is therefore available for all occasions and all seasons. Classic or Chic, for every day or special occasion. The fresh and bright colors suit spring and summer, but the colors also provide a warm effect in autumn and winter.