Cutlery. EME Napoleon has a wide range of high quality.
Published on 26 november, 2021
•
By Napoleonbestek.nl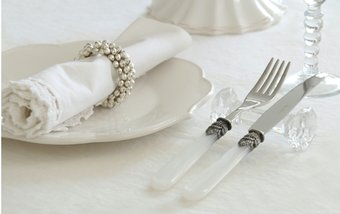 For many, cutlery is more than just eating utensils. Do you also choose your cutlery set because you want to eat pleasantly? Does the cutlery have to be comfortable in your hand? And should it also contribute to a cozy atmosphere at the table? Does it have to match your decor or tableware? Do you want to look good when you give a dinner? Does the cutlery have to be dishwasher safe and of high quality?
If you answered yes to any of these questions, then EME Napoleon has the answer for you. The cutlery is available as a cutlery cassette, cutlery set or separate cutlery. The cutlery lies well in the hand, the knives are nice and sharp and the material is of high quality. That is why it can be put in the dishwasher (read the maintenance instructions carefully).
The range is large (35 different types and no fewer than 17 different colours). Something for everyone: whether you are looking for a complete cutlery set or you want to add something to your existing set. The beautiful design and special mother-of-pearl color provide a surprising appearance. The cutlery suits both chic and classic.
Became curious?
View the range of cutlery from EME Napoleon here.