Chopsticks in different colors. Surprising design.
Published on 3 april, 2022
•
By Napoleonbestek.nl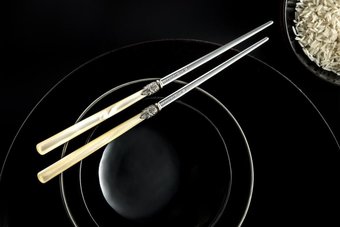 Have you seen the beautiful chopsticks from EME Napoleon? Available in different colors and made of high quality materials. That is why the chopsticks can simply be put in the dishwasher.
Do you often eat sushi or noodles? Do you ever use chopsticks? Do you still use wooden (disposable) chopsticks? Then you should definitely take a look at the range of chopsticks from EME Napoleon.
The chopsticks from EME Napoleon are made of high-quality material and can therefore simply be put in the dishwasher. The look and design make the chopsticks a luxury product for multiple occasions.
Do you want to surprise someone with a special gift? These chopsticks are also very nice to give as a gift! The chopsticks are available in the colors ivory with mother-of-pearl, grey, brown, red, green and blue.