Celebrate Easter in style with a beautifully set table
Published on 17 march, 2023
•
By Napoleonbestek.nl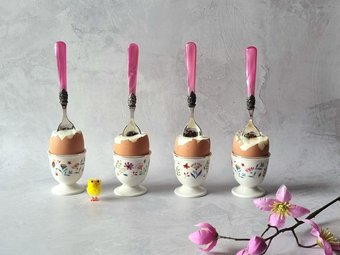 With Easter on the horizon, it's time to think about how to celebrate this festive day. Whether you are organizing an Easter breakfast, Easter dinner or Easter party, a beautifully set table should not be missed. It is the way to bring your guests into the Easter atmosphere and ensure an unforgettable day.
An Easter breakfast is a great way to start the day. Think of tasty sandwiches, fresh orange juice and of course boiled eggs in all kinds of colors. Put napkins in pastel colors on the table and decorate with flowers in the same shades. The coloured cutlery of EME-Napoleon.com fits perfectly with this. It gives your table that little bit extra and creates a festive feeling.
For Easter dinner, you can use the cutlery in a different way. Choose a set table in fresh spring colours such as green and yellow. Put down a nice tablecloth and place flower arrangements as a centerpiece. The coloured cutlery of EME-Napoleon.com also comes into its own here. By combining different colors you make the table extra festive.
And then there's the Easter feast. Now is the time to go all out with the decoration. Hang garlands, lay eggs in all colors and decorate with flowers and greenery. A real eye-catcher on your festive table is the cutlery with colored handle from Napoleonbestek.nl. It fits perfectly with the festive atmosphere and completes your table.