Buying Cutlery: A Comprehensive Guide to Finding the Perfect Flatware
Published on 23 july, 2023
•
By EME Napoleon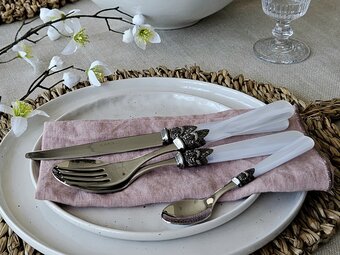 Looking to Buy Cutlery?
The right cutlery is crucial in elevating your table setting and creating a pleasant dining experience. Whether you are in search of cutlery for everyday use, special occasions, or as a gift, finding the perfect flatware can be a challenging task.
In this blog, we will guide you through the process of buying cutlery, taking into account quality, style, materials, and budget. Discover how you can elevate your table with the right cutlery! Whether you choose EME Napoleon cutlery or another brand, we are here to inform you and help you make the right choice!
Key Considerations When Buying Cutlery
Before you proceed with buying cutlery, there are some essential considerations to keep in mind. Here are the main aspects to consider:
Quality and Durability:
Quality is paramount when choosing cutlery. High-quality stainless steel is a popular choice due to its durability and resistance to stains and corrosion. Pay attention to the type of stainless steel, such as 18/10 or 18/8, where the first number indicates the chromium content and the second number indicates the nickel content. EME Napoleon cutlery is made from 18/10 stainless steel.
Style and Design:
The appearance of the cutlery is also important as it adds a visual element to your table setting. Choose a style that complements your personal taste and the overall decor of your dining area. Popular styles range from classic and elegant to modern and sleek. The style of EME Napoleon cutlery can be combined with both classic and modern table settings.
Quantity and Types of Cutlery:
Determine the number of place settings you need based on the number of family members and guests you regularly entertain. Standard cutlery sets usually include knives, forks, spoons, and dessert spoons, but some sets may also include teaspoons, coffee spoons, cake forks, and serving utensils. EME Napoleon offers cutlery sets, flatware sets, and individual pieces. There are as many as 35 different types available in 17 colors.
Cutlery Materials:
Stainless Steel:
As mentioned earlier, stainless steel is the most popular material for cutlery due to its durability and easy maintenance. It comes in various finishes, such as polished, brushed, and matte, to cater to different preferences. Hence, EME Napoleon cutlery is made of stainless steel.
Silver:
Silver cutlery exudes elegance and luxury. However, it is often more expensive and requires more maintenance as it is prone to tarnishing and corrosion. EME Napoleon does not sell silver cutlery.
Gold:
Gold cutlery is a striking choice perfect for special occasions. However, it requires extra care and usually needs to be hand-washed to protect the gold plating. EME Napoleon does not sell gold cutlery.
Buying Cutlery Based on Your Budget
Budget-Friendly Options:
If you have a limited budget, don't be discouraged. High-quality stainless steel cutlery sets are affordable and offer excellent value for money. Look for discounts, deals, and sales to save even more. EME Napoleon cutlery is on the pricier side, but it's possible to collect this beautiful cutlery with a limited budget. EME Napoleon has a few discount promotions per year (so sign up for the newsletter!) and you can also earn points with each purchase of your cutlery. This way, you can get significant discounts on your future purchases!
Investing in Quality:
If you're looking for long-lasting investments, consider investing in a high-quality stainless steel cutlery set. These can last for decades and can even be passed down to the next generations. EME Napoleon cutlery guarantees a long-lasting investment, provided you follow the maintenance instructions!