Buy cheap cutlery? Tips to affordably expand your cutlery set.
Published on 5 january, 2022
•
By Napoleonbestek.nl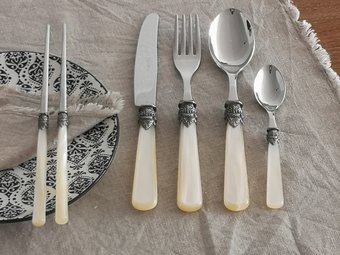 Have you recently received cutlery from EME Napoleon as a gift? Or maybe you gifted yourself this beautiful cutlery? Are you also so in love with the cutlery from EME Napoleon? When we read the reviews of our customers, many customers are very satisfied with the color, appearance and quality of this cutlery.
Then you probably want more of this cutlery! Of course you don't have to do this all at once. You can gradually expand your cutlery set with the cutlery you want. You can choose to buy a number of parts immediately, but this is usually a hefty expense.
We are often called or e-mailed with the question whether we also offer a discount. We do not give (extra) discounts, other than during discount campaigns organized by us. Not even because you plan to order a lot of cutlery.
We have listed a number of tips for you on how you can expand your cutlery with a limited budget! You can also buy cheap cutlery at EME Napoleon.
Buying cutlery doesn't have to be expensive. Make use of the possibilities.